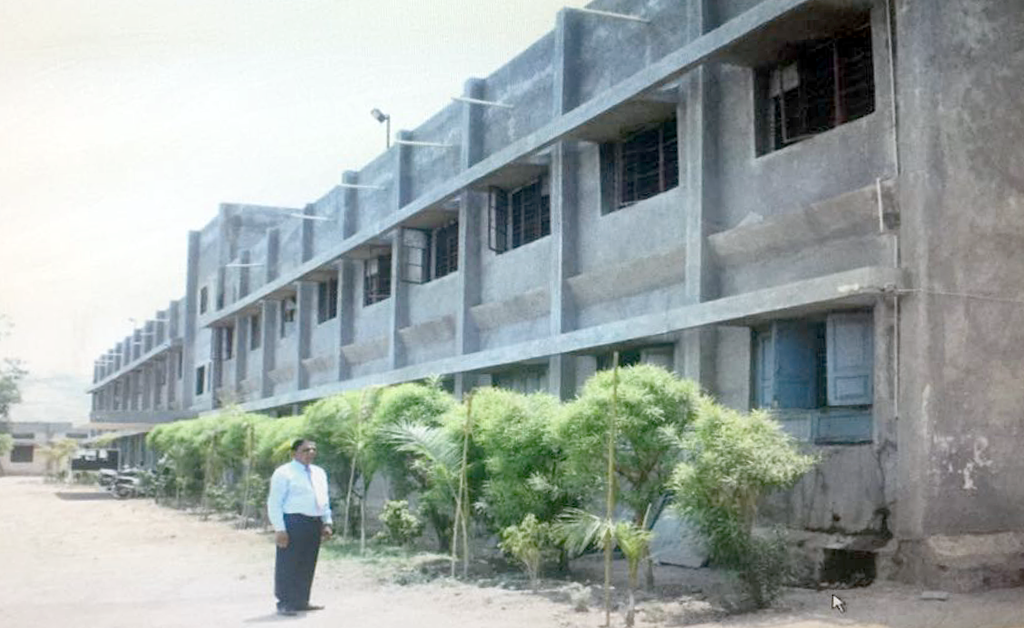 Ajintha Education Society established Sant Dnyaneshwar Mahavidyalaya, Soegaon on 15th June, 1971. The college was started with the name of Arts and Commerce College, Soegaon. Hon. Shri. S B Chavan, the then Chief Minister of Maharashtra and Hon. Shri Raffiq Zakeria, the then Revenue Minister of Maharashtra later renamed the college as Sant Dnyaneshwar Mahavidyalaya, Soegaon in 1976. The college was established through the dedicated efforts of Late Baburaoji Kale, a Freedom-Fighter and a constructive social reformer. He always aimed to impart higher education to socially and economically backward students in this region.
Our college is affiliated to Dr. Babasaheb Ambedkar Marathwada University, Aurangabad. It is included in 2(f) and 12 (B) of the UGC Act 1956. Our college has been accredited by NAAC. It is a multi-faculty institution of higher education having the faculties like B.A., B. Com, B. Sc. and B. C. S. at the under graduate level and post-graduation in Marathi, History, Political Science and Geography. Our college has more than 3000 students on the roll-call pursuing studies in Higher Secondary (Jr. College) and University Education (UG and PG) courses.
Our college is located in the vicinity of the world famous Ajintha Caves wherein a sculpture of Lord Bhudha, stands as a symbolic manifestation of universal peace to the world. The college premises is spread over thirteen acres of land in the lap of naturally beautiful Ajintha valleys. The magnificent two storey building of our college includes a separate administrative wing, well-equipped laboratories and a wide academic wing. An independent library facilitates the wide range of text books, reference books, national and International Journals. An E-library facility under Network Resource Centre is available for the students and staff to get an exposure to various on line libraries in the world along with the various international research journals. A well equipped language laboratory, Audio-Visual room, filtered water, Gymkhana, Indoor and Outdoor games with a big play ground, Girls Hostel etc.
College Development Committee
As per Maharashtra State New University Act-2016
| SR.NO | Name | Representation | Designation |
| --- | --- | --- | --- |
| 1 | Hon. Shri. Rangnath Baburao Kale | Institution | President |
| 2 | Hon. Shri. Prakash Baburao Kale | Secretary Institution | Member |
| 3 | Dr. Shivaji Sahebrao Ambhore | Principal | Secretary |
| 4 | Dr. Shirish S. Pawar | Teacher Representative | Member |
| 5 | Dr. Raosaheb K. Barote | HOD Representative | Member |
| 6 | Dr. Chatraghun U. Bhore | Teacher Representative | Member |
| 7 | Miss. Nirmala Borade | Women's Representative | Member |
| 8 | Shri Pankaj Sable | Non-Teaching Representative | Member |
| 9 | Shrimati Pushpatai P. Kale | Social Worker | Member |
| 10 | Shri. Shanjay Shahapurkar | Education | Member |
| 11 | Dr. Sanjay Patil | Researcher | Member |
| 12 | Shri. Indrajitsing Khas | Small Scale Industrialist | Member |
| 13 | Dr. Pramod A. Pawar | IQAC Chairman | Member |
| 14 | Students Representative | - | Member |